The "Arbor" changes with the seasons, watch it grow into a garden of crafts ( hobby and professional ),
helpful hints, home decor, craft business marketing information, shopping and fun.
"Treasures made by hand , to warm your heart and your home."
The "Arbor" has moved !
Our new URL : http://ww.rosearborcrafts.com
Professional Crafters.com The industry resource for craft business and craft marketing information -
Serving professional crafters, artists, and artisans since 1997.
The Professional Crafter's Mailing List (PCML)
The essential crafters network ! Whether just starting out or a seasoned veteran- This FREE, moderated e-mail
discussion group is where you can meet with others in the craft industry and discuss the business of
professional crafting.To subscribe, send a blank e-mail

Subscribe to -PCML-Crafts-N-Stuff
The FREE, weekly, fun ,crafty-filled and information-packed newsletter from *PCML*!

The Arbor Book Boutique
Professional
Quilts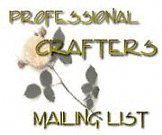 Join THE PROFESSIONAL CRAFTER'S WEBRING !
A simple and FREE way to increase visitors to your web site .
For easy 1 -2- 3 instructions visit The Professional Crafter's webring :
http://U.webring.com/hub?ring=pcml
if you have comments or questions, e-mail


Frost Is On The Pumpkin Web Design in association with Professional Crafters.com
Web design services for the craft industry.